The Language Of Fists VR (Oculus Quest, SteamVR, Oculus Rift)
A downloadable game for Windows and Android
The Language of Fists is sometimes the only language an unruly inner monologue will understand.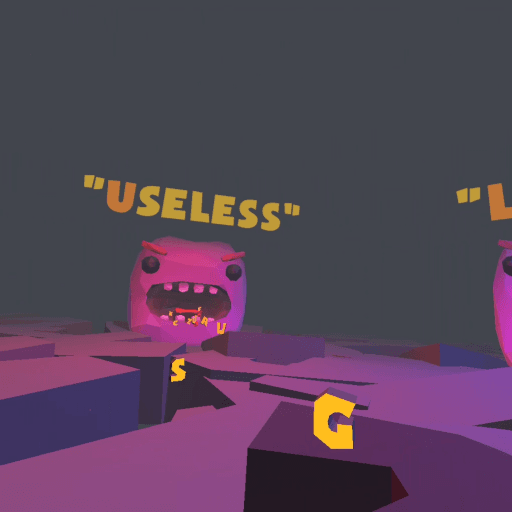 This is a VR game for Oculus Quest (use Sidequest to load the APK file), and for Windows SteamVR and Oculus systems on the desktop PC. It requires a room-scale setup of at least 3 meters by 2 meters for safety, and controllers. Don't download it if you don't have VR.
Made in 72 hours for the Jamingtons 8.0 Quarantine Jam. The theme for the jam is "language".
The theme made me ask what type of language do your talk to yourself with inside our head? Is your inner monologue positive, or is it negative? What labels are stuck in our heads, and repeated by that inner voice? Does it tell you you're stupid, ugly, or unlovable? Is that the voice of a parent, a teacher, or a bully living in your head? Well now you can punch those labels and show them that they don't define you. Show them the language of the fist.

Instructions:
Lick each fist to start a level. (Put each fist up near your mouth until it registers.) Stand on the white cube for the center of your space.
Punch letters that fly at you, to spell the word on the negative label. Make sure you punch hard so that you can truly break that letter. If you spell the whole word, it will be replaced with a positive label.
Squeeze the front trigger to extend the fist for more reach.
Dodge the negative inner voices that fly at you. Don't let them touch your fists or your body/head.
See the number of hearts you have left on the back of your left hand. You lose a heart when a negative inner voice touches you.
Feel better by punching other letters. (A healing feature to restore a heart after each 12 letters didn't make it into the game.)
There's only 3 levels so far. Have fun! Let me know if you like it.
Tools: Unity (game engine), Blender (3D modeling), Audacity (audio), Substance Painter (3D texturing)
Third Party Assets:
Download
Click download now to get access to the following files:
Oculus Quest (Sideload APK)
62 MB
Windows (SteamVR and Oculus)
64 MB