My Best Friend Has Many Tentacles (VR)
A downloadable game for Windows and Android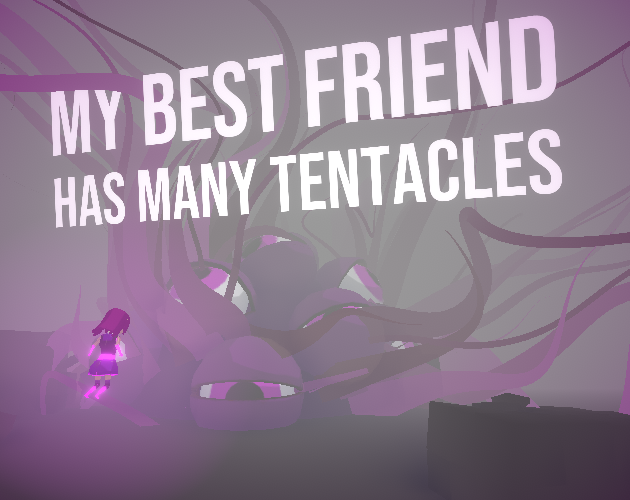 Help magical girl Violet keep her best friend alive. Her BFF Wormikyu happens to be a tentacle/eyeball monster. Lure other magical girls to your friend's tentacles to let it feed. Can you defeat all 6 magical girls while keeping Wormikyu alive?
VR REQUIRED: Do not download this if you don't have VR. Supported VR platforms:
Oculus Quest (use Sidequest to install the .apk file)
Steam VR on Windows (Tested with HTC Vive)
Oculus VR on Windows (Tested with Oculus Rift and Oculus Quest in Link mode)
No Windows Mixed Reality because I don't have that.

Made in 72 hours for Ludum Dare 46 and an additional 12 hours for the Magical Girl Game Jam build. Themes are "Keep it alive" and "My very best friend".
Controls:

You can use either hand or both hands with the following controls

Flying: Press the VR controller's front trigger to make Violet fly to the tip of your transparent wand. Keep it held down to have her follow your wand as you move it around. Fly though a building fast enough and you will damage/destroy it.
Firing: Push the touchpad button (on the HTC Vive) or the A/X buttons (Oculus) to have Violet cast a Nova Burst spell. Other magical girls within range of the spell will be hurt. Firing at buildings will damage them, not that you care about collateral damage.
Reposition world: (This uses the same camera control scheme as Tiltbrush.) Squeeze one side grip button and move the controller, as if you are grabbing the world and dragging it, while you stay still. In the Magical Girl Game Jam build, you can squeeze both side grips to zoom in/out by dragging them closer or farther apart. I removed the zoom in the post-jam build.
Known issues:
If you switch too much on what hand you're using to do Nova Blasts, Violet will lose the ability to do Nova Blasts. Workaround: Only use one hand to do Nova Blasts and stick with that one hand.
Sometimes the Green Horror Girls get lost and never make it to your BFF. If you don't see a Green Horror Girl for at least 20 seconds on Stage 5, there is no game over text above your BFF, then restart the game or play as a sandbox. They sometimes get stuck inside of buildings or under the ground. You may be able to find them by blasting away all the buildings.
Tools: Unity, Blender, Substance Painter, GIMP, Audacity

Third-Party Assets
Download
Click download now to get access to the following files:
v1.0.1 (Windows: SteamVR & Oculus)
33 MB
v1.0.1 (Oculus Quest)
29 MB