Like the Wind
A downloadable tentacle-filled game for Windows, macOS, and Linux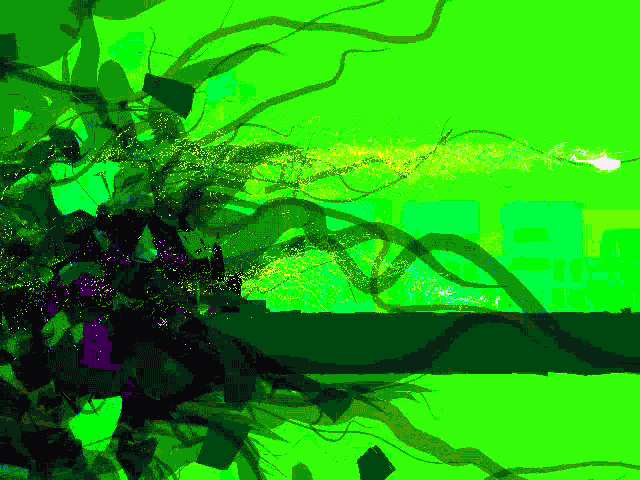 Escape from imminent destruction in this trippy, tentacle-filled, fully-destructive, button-mashing runner. Follow the helicopter to the evacuation zone and jump onto it to escape. Try to save as many survivors as you can!

SEIZURE WARNING: You will definitely get a seizure from this game due to the flashing lights, psychedelic colors, and tentacles. Please do not play if you are sensitive to these things.

Made in ~48 hours for: Destruction Jam (#DestructionJam) and Music Video Game Jam 2018 (#mvjam18) during the two jams' brief overlap period.

This game lasts 3.5 minutes. Play it to the end! Play it with a friend!
Controls:

| Action | Command |
| --- | --- |
| Run | Rapidly mash keys displayed above the runner |
| Jump | Hold the keys displayed above the runner |
| Slow-mo | Hold Spacebar |
| Quit | Escape Key |
Comments
Log in with itch.io to leave a comment.
Fun game, loved the colors and concept. And it's so different from most other games. Awesome job!
I'm happy to see that you won the Destruction JAM with your formidable entry, Andrew! It was an audiovisual delight and I just loved the zooming-in-and-out effects as well as the color palettes! You really know how to make a game looking intriguing and it was somewhat different from your usual style, but stunning nonetheless! <3 I hope you enjoyed my article about it as well as the video, because I for sure loved your game! :)

Best wishes,
Sebastian
Brilliant game, its a feast for the senses! I review games that I like on Itch each week and have included yours in this weeks episode. I hope you don't mind, thanks again for the fun!
I love this concept and the game looks awesome but for some reason the guy keeps stopping even though I'm mashing. You're supposed to mash them at the same time, right? Alternating keys doesn't seem to make him move at all. If I mash at the same time he starts going forward very slowly but keeps stopping and gets eaten in a few seconds. I'm mashing pretty fast, as fast as I can anyway. I've never had an issue with this keyboard before so I don't think that's the problem.
I've tested on 4 different keyboards, PC and Mac, and they all worked fine, given proper technique. Consider the following:

1. Are you perhaps using the wrong key? The K and H characters look very close in that font. The first runner that you start with (and when you respawn after there are no other runners on screen) uses the J and the K keys, not the H key. From that you described, it sounds as if you were just pressing the wrong key.

2. For runners with two keys, you're supposed to alternate the keys to run, not tap them at the same time. If you're pressing them exactly at the same time, it will be slower, or will trigger jumps if you hold them down for at least 0.25 seconds. For runners with just one key, just keep tapping that one key rapidly to run, and hold that one key to jump. Runners with 2 keys can go a bit faster than runners with 1 key, and are a bit more sustainable for your finger muscles than runners with 1 key. Have you reached a different runner?
3. Also, are you sure the character is not running into the ground obstacles? You need to jump over the obstacles that are too tall for the character to just run over, or the character will be stopped by them. When the ground below you is breaking apart, there may be obstacle fragments blocking you, or when you're not actually touching the ground, then the keypresses will do nothing for you. Keep from getting too close to the monster.

4. Also, it depends on how many key "rollover" your keyboard has. Some keyboards cannot handle many simultaneous keys at the same time. You won't run into this with normal games unless you are trying to play a button mashing game where alternation is important. Remember to lift your finger all the way up after each press, so that the keyboard can detect that the key is released. (I had this issue on one of my clicky mechanical keyboards with a deep travel, with my left hand where I was pressing so rapidly they keys but didn't always pull up my fingers enough to "unpress".) If your framerate is super low then that could affect things as well.
If all of this fails you, then I'd appreciate if you could send me OS and OS version, machine specs, keyboard type, and how fast you were pressing (presses per second) to help figure out what's going on.

Wooeee thats a brilliant game, whooped when i got on the chopper!