A Midlevel Dog
A middle-aged mid-level corporate dog is having a mid-life crisis in a surreal dog-eat-dog world. Did I mention that the world is populated by dogs?
There are two different endings.
Hint: You can choose the "good" (resignation letter) ending right after seeing your boss' email in the office scene by walking back to your midlevel desk, sitting down and typing up the resignation letter.
Controls: WASD/Arrows to move, Spacebar to activate or jump.
Youtubers/Streamers: You can use the forward slash key (/) to skip to the next level when you replay the game, to save time in trying to get to the two different endings. Have fun!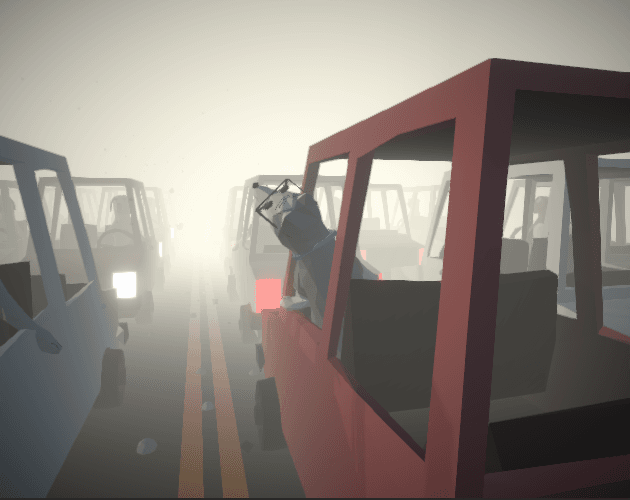 DogGameJam: I made this game in about a week for #DogGameJam. In this game jam, participants are given a model to use as the main character. The model is of a half-husky half-wolf dog named Rodney. I modified it by anthropomorphizing it and stylizing it into a low-poly middle-aged dog, and wanted to explore this middle season of life that I am going through.
Tools: Unity, Blender, Gimp, Audacity
Comments
Log in with itch.io to leave a comment.
this is such a creative game, i loved playing it!
Okay I VERY enjoyed this game! You took some sayings so literally I loved every moment although sad for coworkers ;u; - but thank you for the game all the same!
Thank you for playing! I loved your video and reactions!
A fun game! Love the dog puns and glad to see Rodney can escape the corporate hellscape :)
love the narrative and tiny games. nice flow.
The game does not start properly when installed in itch.io App on windows. A windows opend with the Unity logo plus an error message:
Unable to parse Build/MidlevelDog.framework.js.gz! This can happen if build compression was enabled but web server hosting the content was misconfigured to not serve the file with HTTP Response Header "Content-Encoding: gzip" present. Check browser Console and Devtools Network tab to debug.
Thanks for letting me know! The itch.io app can't seem to run webgl builds from the latest beta versions of Unity. As a workaround, you can play it on the itch page in a browser. I'll have to make a desktop build so itch.io app users can play it too.
Yes, that worked well.
Congratulations to your game, I like the theme and your creative ideas.
The best was how to snooze the alarm. At first I did not get it, but then I saw that arm. That was so funny.
Great work!