Silence In One Fell Swoop
A downloadable game for Windows and macOS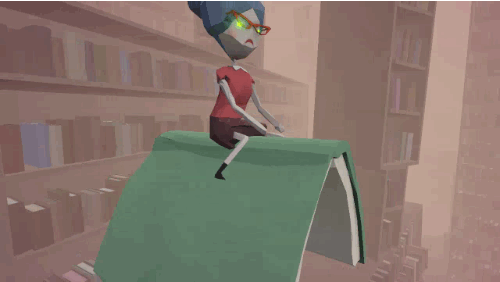 As the librarian of Libraryland, you must protect the slumbering books from all noise. Hunt down the noisy bookworms and drop them in the drop-off boxes to silence them. If they make too much noise, then the books will awake and you will fail your duties.

Made in 72 hours for Game Dev League Jam (January 2018). Theme is: silence.

Controls:

| | |
| --- | --- |
| Action | Control |
| Fly Upwards | Hold Spacebar |
| Camera direction | Move mouse |
| Move relative to camera direction | WASD or Arrow Keys |
| Grab bookworm | Swoop over the bookworm (or just crash into it) |
| Drop bookworm | Swoop over a drop-off box |
Tip 1: Use the librarian's keen senses to look for the faint soundwaves vibrating in the air.
Tip 2: The bookworms are afraid of heights. They are usually on the ground or on top of very low bookshelves.

Note: I didn't get a chance to balance/test to see if this is actually beatable yet, and gameplay can vary a lot because the levels are completely procedurally generated (random). To force the Victory screen, press the "1" key during the gameplay. To forcethe failure screen, press the "2" key during the gameplay.

Third Party Attributions:
Music: Fantastic Dim Bar by Kevin MacLeod (incompetech.com) Creative Commons by Attribution 3.0.
Icon (on the dropoff boxes): Silence Icon by TrentoF------City from the Noun Project
Camera filter: SSAO Pro Unity Asset by Thomas Hourdel
Camera filter: Postprocessing Stack by Unity
Tools Used: Unity, Blender, Substance Painter, Gimp.